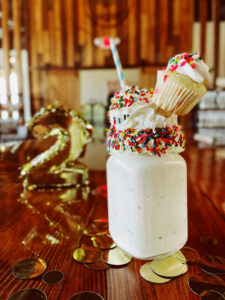 This Friday & Saturday only… "𝗛𝗮𝘃𝗲 𝘆𝗼𝘂𝗿 𝗰𝗮𝗸𝗲 𝗮𝗻𝗱 𝗲𝗮𝘁 𝗶𝘁 𝗧𝗪𝗢" 
We couldn't resist coming up with this beauty to celebrate our 2 year anniversary this weekend! Our event special features a frosted glass filled with Toasted Republic Cream Liqueur, Crusader Spiced Rum, vanilla ice cream, vanilla cake mix, and all of the sprinkles that your heart desires 🤩 Topped with whipped cream, rainbow sprinkles, and a mini vanilla cupcake!
Additionally, we will have live music and food trucks from 3-6 PM on both Friday and Saturday!
We can't wait to celebrate 
️years with you!