Private Events at Twelve 33 Distillery
Why not hold your next event or gathering at our beautiful Distillery? We have space to accommodate groups both large and small. Our Tasting Room is upscale and tastefully designed and decorated by one of the top designers in the Grand Strand. Our venue is accentuated by our beautiful and massive stills (Bonnie and Clyde) which add to the unique experience. Twelve 33 Distillery is available for Private Events every day of the week (except certain Holidays).
* Photos from our last Gala - Click an image to start slideshow
Mac Daddy Party Space (Use of Entire Facility)
For large events, our 3000 Sq Ft Tasting Room is available to rent and will accommodate up to 200 guests. This space is perfect for large business gatherings, rehearsal dinners, wedding receptions, or just a big party! Also included is the use of our 550 sq ft hidden Speakeasy. The Tasting Room works perfectly for dining, drinking and dancing with ample space for a big crowd while those who want a more intimate atmosphere can hang out in the Speakeasy where things are a bit more quiet and cozy.
The Juice Joint (Speakeasy Only)
For small events, our 550 Sq Ft Hidden Speakeasy is available to rent and will accommodate up to 17 guests. This space is perfect for small office gatherings, birthdays, family get-togethers, or just hanging with friends! Times and availability are first come, first served and will not be held until deposit is received. The Speakeasy cannot be rented in conflicting time slots with rental of the Tasting Room.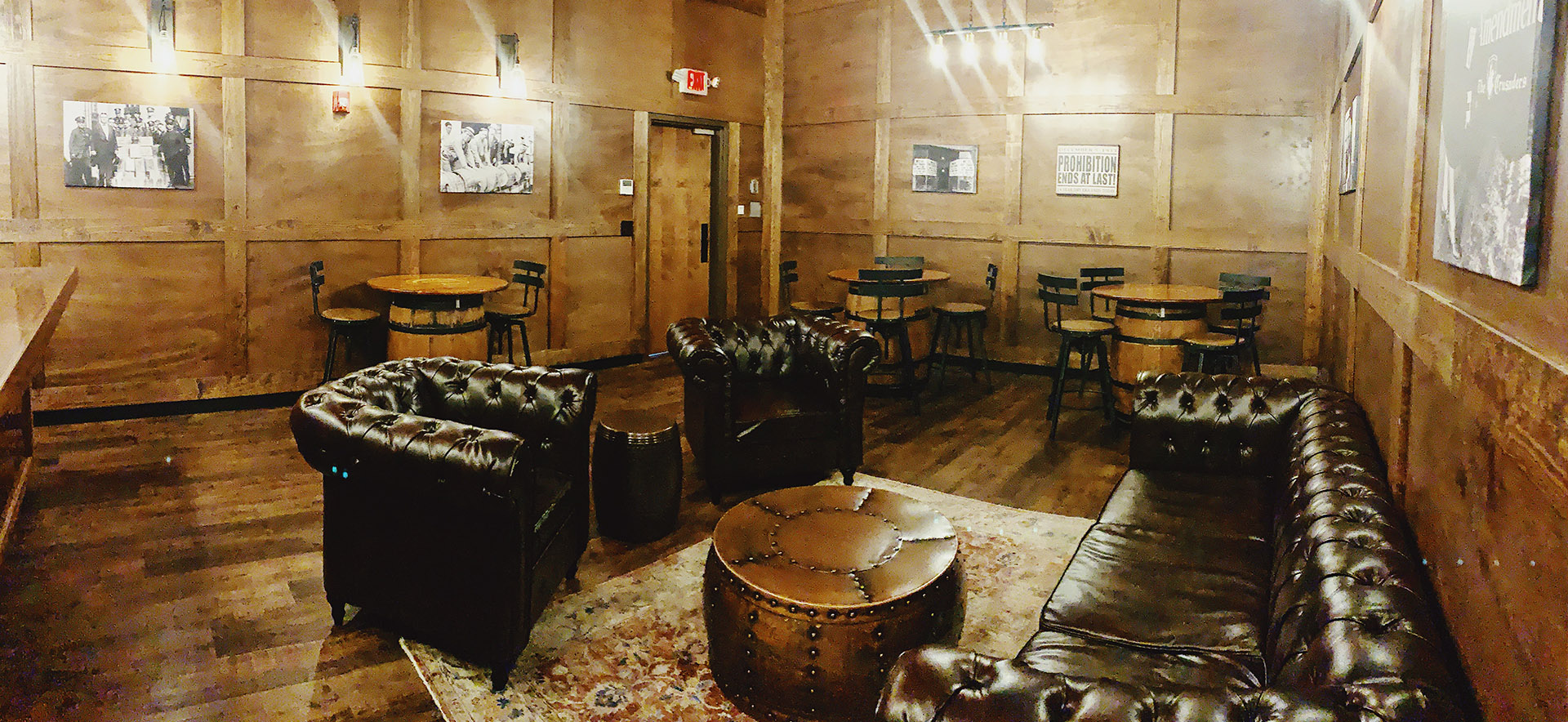 Parking is available on site, but it is still limited. We have a total of 58 spaces and the lot is shared. We also have access to overflow parking across the street. Carpooling is encouraged for large event groups. Large parties must inquire about a parking attendant and shuttle service.
Age restrictions do not apply to private events as we are closed to the public. All ages are welcome.
We have large Mens and Ladies Restrooms in the building.
110V and 220V power available.
Speakers and Audio system in both Tasting Room and Speakeasy are independently controlled and Bluetooth accessible.
There is no kitchen onsite, but several areas that can work as a pop-up kitchen. There is also a water hook up inside and outside of the distillery.
Nobody is permitted access or use of area beyond the tasting room or Speakeasy room. The production area and back room are strictly off limits to everyone except management staff.
No concealed weapons are allowed inside the facility.
There is absolutely NO SMOKING permitted anywhere in the facility.
Twelve 33 Distillery does not offer any food services, but we do have a list of preferred vendors. We will be happy to provide you with a list of these companies and any recommendations based on which services you are interested in.
For Rates and Availability
Email us at info@twelve33distillery.com or call (843) 663-3344.