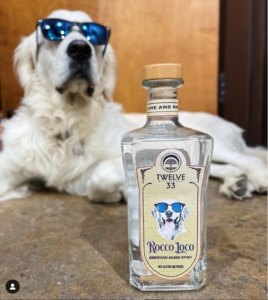 𝐑𝐨𝐜𝐜𝐨 𝐋𝐨𝐜𝐨, 𝐨𝐮𝐫 𝐀𝐦𝐞𝐫𝐢𝐜𝐚𝐧 𝐀𝐠𝐚𝐯𝐞 𝐒𝐩𝐢𝐫𝐢𝐭 (𝐨𝐫 𝐛𝐞𝐭𝐭𝐞𝐫 𝐤𝐧𝐨𝐰𝐧 𝐚𝐬 𝐭𝐞𝐪𝐮𝐢𝐥𝐚), 𝐢𝐬 𝐍𝐎𝐖 𝐀𝐕𝐀𝐈𝐋𝐀𝐁𝐋𝐄! You may purchase this in store or online at www.toptierbeverages.com.
Here's a little backstory on this one…
Pay a visit to us and you are likely to meet Rocco, our crazy, fun-loving Distillery Dog. He is full of love and always puts a smile on your face. An American Agave Spirit namesake seemed the perfect fit. Made from premium Blue Agave nectar, Rocco Loco will rival the finest Blanco Tequilas. It can be enjoyed straight or in any traditional Tequila cocktails.
We worked extremely hard on Rocco Loco, and hope you all enjoy it for years to come. Cheers!